Biographie

I was born 1977 in Weingarten. I already grew up with music at home on the Lake Constance. When I was 10 years old I started to take flute lessons, and I gave myself a try on stage.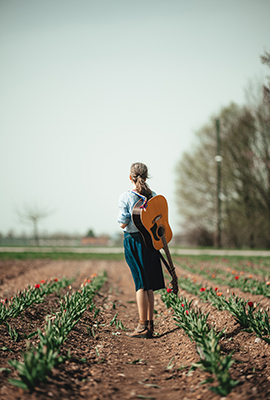 For 10 years I played in several orchestra and I took part in some competition.
At that time I found out my love for singing. I started writing poems and later on, with about 12 years, I learned how to play guitar and I composed my first song. During the year 1998 I spent in the States, I noticed that being on stage feels kind of like home to me. I played a lot of music and I got to know many people, supporting me in my plans becoming a professional musician.
Back in Germany I took classic singing lessons and while my goldsmith education in Hanau I visited the "Frankfurter Musikwerkstatt" in the Jazz/Rock/Pop area. Furthermore I was singing in a Punk band and I got to know a lot of good musicians on several jam sessions. It was a good time to recess vocal improvisation.
2004 I studied sign language in Magdeburg. The silence in the world of deaf people in contrast to my music, seemed delightful to me. I got to know the Blues and I also liked this kind of music a lot. Now I live in Munich and I am solo on stage again, but always open for new projects thrilling me.